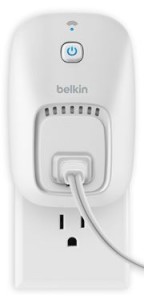 WeMo is a family of simple, easy to use products that allow you to control home electronics from anywhere. Turn them on or off, trigger them with motion, even put them on a schedule.  WeMo lives on your smartphone and uses your home WiFi and mobile internet. Setting up and using it is a snap. In fact, all the setup happens from your smartphone.
So, what can WeMo do?
Almost anything. WeMo can make your house a more convenient, easy place to be. When you return home, your lights are on. Leave the room, and the TV turns off. Turn off a light downstairs after you've already turned in.  Put your house on a schedule-bedroom and living room lights go on in the evening, the kids' playroom gadgets go off at bedtime.  With WeMo you run your home right from your iPhone. The free WeMo app lets you control individual or multiple devices. Turn off a lamp from the other side of the house. Turn on the lights in the living room, from the other side of town.
Schedules are easy to set up too.  You can put multiple WeMos together in your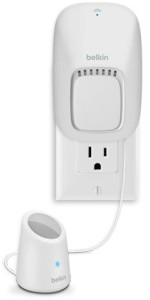 scheduled events with ease. The beauty of the way these devices work is that the unit itself is able to trigger the control.  Rather than having a home automation server, each device learns its program and can independently act or perform functions with other devices.  An example would be having a WeMo Switch + Motion that detects the garage door opening and then instructs other WeMo devices to turn on lighting in the house.
There are two types of units available now: WeMo Switch and WeMo Switch + Motion.
If it plugs in, you can turn it on or off with WeMo Switch. Just plug your lamp, or fan, or stereo (almost anything) into the WeMo Switch, and you're ready to control it with the WeMo app. And WeMo is completely modular. With multiple WeMo Switches, you can control as much or as little of your home as you like.
WeMo Switch + Motion is a great way to trigger it with motion. Just place the WeMo Motion sensor wherever you like, connect it to a WeMo Switch controlling a light, and that light goes on whenever you pass by. With WeMo Motion, appliances wake up and perform their tasks when you get near them, and go to sleep when you leave. Just like they should! Learn more
These units are not inexpensive but they provide great functionality for the money.  The WeMo Switch runs $49 and the WeMo Switch + Motion costs $99.  The iPhone app is free and available now.  AN Android application is also available for free but is still in Beta and only works with newer android operating systems.  It is available on Google's Play Store.
There are videos on how these units work on Belkin's website.