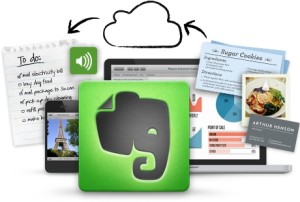 If your fond of using a tablet for many applications, one of the first things you run into is the need to be able to take notes. These days, all operating systems include a note taking application. Whether you're running iOS, android, Mac, or Windows, each operating system provides its ability to do notetaking. But many people need the ability to have a universal notetaking application that can be used on both computers and on tablet devices. Over the years, I've tried a number of these and I have finally settled on the use of Evernote.
Evernote is a notetaking application that can be used in a web browser or on literally any tablet or computer platform available today. On the Mac, Evernote can be downloaded for free from the app store. On iOS it's also free in the iOS app store. There is also an application for android, windows, and Evernote can also be used directly in a web browser. This ability to use an application cross-platform gives you the ability to move notes back-and-forth from wherever you happen to be working at the time.
I often use my iPad, and Siri to be able to speak my notes into Evernote. Evernote like many applications on the iPad supports this seamlessly. I open up Evernote, create a new note, and then basically just speak the information I need to take notes about. Evernote provides a lot of additional abilities too. You have the ability to be able to import documents directly into Evernote. You can move the text in easily through cut-and-paste, or you can simply embed the document. By embedding the document in an Evernote note, you have the ability to be able to edit that in the native application that created. Evernote also has the ability to be able to insert pictures, charts, graphs, or basically anything that you can think of.
There are also web browser extensions that allow you to select text directly in a web browser and create a new note from that text. It supports embedding Internet links in the note so that they can be clicked on directly and take you to a webpage. You have the ability to embed photos directly from the camera on your device or from your camera roll. Evernote has the ability to use text markup such as bold italic and underline and also create number or bulleted lists. In many ways, it could be a wordprocessor for many people.
You can create and name notebooks which you can move documents into, or create new documents directly in  notebooks that you have. This provides a great ability to be able to organize your notes into subjects that you can retrieve at a later time.
Best of all Evernote provides this service for free. Evernote also provides an inexpensive premium service that gives you the ability to search inside PDF documents, and also Store your notebooks off-line, giving you the ability to be able to use Evernote without an Internet connection.
If you're tired of the note taking application that's included in your device, or if you're looking for something more universal with more features, take a look at Evernote. I believe it's the best product on the market today and I use it nearly every day I work.