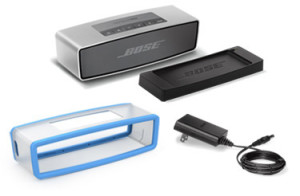 Sometimes you just need to rock to your tunes. You may be at a picnic, a hotel room, or even in the car. The easiest way to be able to do this is to connect your phone to a Bluetooth speaker. But there are so many on the market, which should I try?
If your in the market for a bluetooth speaker with great sound, I recommend looking to the Bose Soundlink Mini.
The SoundLink Mini speaker is small and light enough to tuck into your bag. It weighs in at just 1.5 pounds. Its low profile lets you place it almost anywhere and provides a low center of gravity that makes it nearly impossible to tip over.
The rechargeable lithium-ion battery delivers up to seven hours of playtime. And at home, you can listen even longer—the charging cradle lets you listen while it charges. An empty battery usually fully recharges in three hours.
The speaker has a range of about 30 feet, so you can enjoy the sound you want without wires. It pairs easily with your smartphone, iPad® or other Bluetooth device. And it remembers the most recent six devices you've used, so reconnecting is even simpler.
There are even more features:
Charging cradle recharges the battery and serves as a convenient home base for your speaker, and it lets you play while it charges
Wall charger can be plugged into the cradle or directly into the speaker
Auxiliary port lets you connect other audio sources, like an MP3 player
USB port allows for software update to ensure ongoing Bluetooth device compatibility
Soft covers are available separately in red, blue, green or orange. Pick a color to match your style
There are many of these on the market these days but I really like the sound technology Bose uses. Take a look at this one if you are looking and judge for yourself.