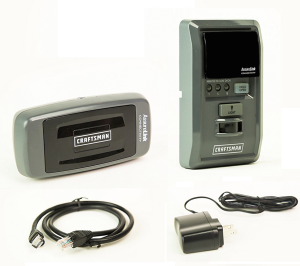 Have you ever forgot to lower your garage door?  Or worse yet, have you ever been unsure if you left it open or closed? The Sears Craftsman Assurelink Garage Door Opener is just the ticket for these times.    This opener connects to your home internet and allows you to open and close the door from your smatrphone.  Assurelink allows you to monitor and activate your garage door from the web, so whether you're fishing at the lake, in a hotel on business,  or stuck in downtown traffic, you can know for certain that your home is safe and secure.
The opener itself is a top of the line feature full garage door opener from Sears.  In addition to all the features you would expect, it comes with a internet gateway that plugs into your home network and gives you the ability to control the door with a free application for your iPhone or Android phone.  It's also compatible with many already existing technologies, like MyQ™ home activation products or in-vehicle HomeLink® remote control systems.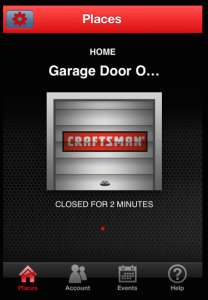 The app for your phone allow you to check the status of the door and to open or close it.  It requires a 4 digit password to open so that someone playing with your phone cannot accidentally open the door.
Even if it's not time to replace your opener, if you have a modern Craftsman opener, an add on package is available to give you the internet connectivity.  The openers cost between $229 and $299.  If your opener is comparable, the add on package is just $89.
If your looking for a new opener or have a recent one you may want to add this functionality to your home.  It definitely has its place in providing piece of mind.