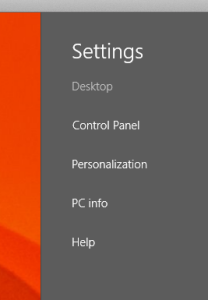 One of the minor annoyances in Windows 8 is the fact that Microsoft is chosen to provide two versions of Internet Explorer. The windows 8 tile version of Internet Explorer is launched from the tile on the windows 8 start screen, While the desktop version of Internet Explorer is launched whenever you're in the desktop. This is quite confusing for a lot of people. But there is a way to set Internet Explorer to always launch the desktop version regardless of whether you click on the tile on the start menu or run it from the desktop.
From the windows start screen open desktop. Now open the charms menu on the right side and click settings. Select control panels. This brings up the normal Windows Control Panel display. From the control panel change the view to large icons so that you can see the individual panels. Select Internet options. Next select the programs tab and change the opening Internet Explorer settings.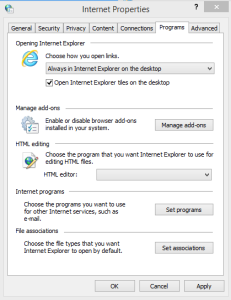 The settings I use are for choose how to open links is set to always in Internet Explorer on the desktop. I also checked the box that says open Internet Explorer tile on the desktop version. Now click apply and then ok.
Now, no matter how you open a link, or run Internet Explorer, it always opens the desktop version that you're more familiar with.