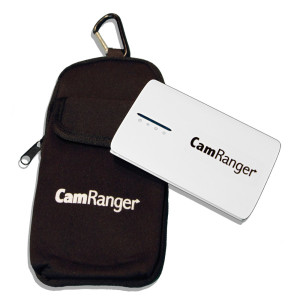 Wouldn't it be nice if you could set your camera off remotely. Most DSLR cameras these days allow you to do that with a small hand-held infrared remote. The problem with doing it this way is you're not able to see what you're taking a shot and you're not able to modify the settings of the camera based upon what you see. There are many ways to get around this using all sorts of computer applications but most of these require you to tether your camera to a computer. What if you could do it remotely from your iPhone.iPad, Android device, or computer?
CamRanger is a stand-alone device that connects to select Canon or Nikon DLSR cameras with a provided USB cable. It creates an ad-hoc WiFi network that your device (iPad, iPhone, iPod Touch, Android, or Mac or Windows computer) can then connect to. The free CamRanger app then enabled control of the camera. There is no need for a computer or existing Internet connection.  CamRanger creates its own Wi-Fi hotspot that your device connects to.  Once connected you run their software and it gives you complete control of the camera and also the ability to view what the camera seeing. You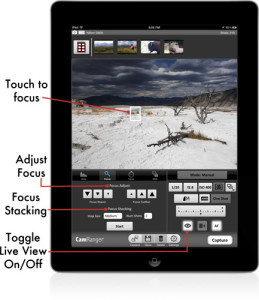 can easily make changes to the controls of your camera, adjust any setting, and see the results through the camera lens.
In addition to simply letting you take pictures, the applications also provide the ability to do macro photography and focus stacking, take HDR images, and time-lapsed shots.  The real place that the CamRanger excels is its ability to be able to use literally any setting your camera has. If your camera can do it CamRanger likely supports it.
There are many products in the market today to do this similar function but in taking a look at CamRanger it seems to me that it may be the best at providing you control of your creativity. If you're interested in photography and want to be able to set your camera off remotely and see what it's taking a picture of, CamRanger maybe the tool for you.