Q: I am not really clear on the iCloud drive. Am I correct with this? First, you need to put items in the icloud drive by dragging them there? Then they should show up on the iPhone but where? Is there supposed to be an icloud drive on the phone? or the pad?  Or would the files just be available, for  example, on pages on the iPhone, since that's where I worked on them?  This is not totally clear for me.
A: What you say makes perfect sense. Unfortunately that's not exactly how it works.
The part on the Mac is correct drag things to the iCloud drive icon that's in your Finder sidebar and that puts them and iCloud Drive. On your Mac you can select iCloud drive and finding those items to open them.
But on the iPhone it's not that simple, on an iOS device the application has to support iCloud Drive. When it does it creates its own folder on iCloud drive for its specific needs.  Here is a screenshot of my my iCloud Drive.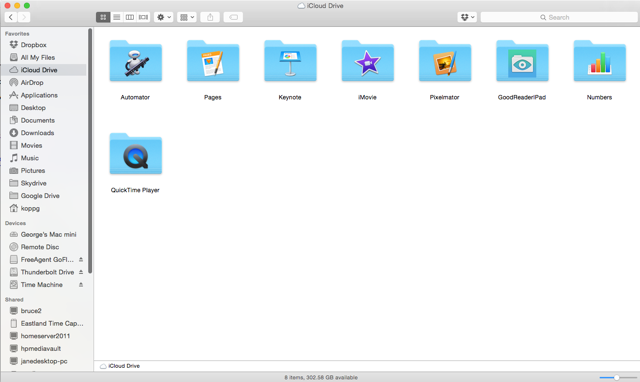 Each of the folders with specialized icons is created by an application on the iOS device. Then to access the files in a particular folder, such as pages, you run the pages application on the iOS device. There is no place on the iPhone or iOS platform to look at everything that's on iCloud drive. You also cannot look for files in other folders. For instance, if you created a home folder on your iCloud drive your iOS apps could not see it.  Each app in iOS only looks in its own folder.
And if that's not enough, each app from iOS can only look at the root level of that folder.  If on the Mac you create subfolders, iOS cannot see them.
To be quite honest, Apple needs to clean a little of this up before it becomes really useful. For now, I only use it for apps on the phone that I want access to the files on the Mac. Not the other way around.
Hope this clears it up. But it's not you, it's confusing by its nature.
Apple has a page on their website that helps clear some of this up.