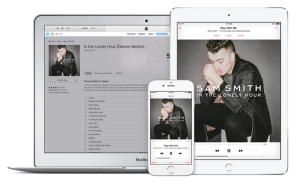 Q:  What is iTunes match and how does it work?
A:    These days, many people have very large music libraries on their computer. It's great to be able to choose the music you want to see based upon your mood of the day. But on our iPhones and iPads we have much less space to hold the music that we we have forcing us to make choices. But how am I going to feel today or tomorrow?.  Apple does provide a way to have all of your music available on all of your devices all of the time. Apple calls it iTunes match.
Recently, I've had a couple of people ask me about iTunes match. ITunes match is a service Apple provides for $24.95 per year.  ITunes match allows us to put our entire music library in the cloud and download only the songs you want to listen to at the time.
Here's how Apple describes it….
iTunes determines which songs in your collection are available in the iTunes Store. Any music with a match is automatically added to iCloud for you to listen to anytime, on any device. Since there are more than 43 million songs in the iTunes Store, chances are your music is already in iCloud.3 And for the few songs that aren't, iTunes uploads what it can't match (which is much faster than uploading your entire music library). Even better, all the music iTunes matches plays back from iCloud at 256-Kbps AAC DRM-free quality — even if your original copy was of lower quality.
Once your music is in iCloud, you can play it from any of your devices. Just browse the complete list of all your music stored in the cloud and tap to play to it. You can store up to 25,000 songs in iCloud (more if songs are purchased from the iTunes Store), but only what you play or download is stored on your device. Tap the iCloud download button to download music from an artist, album, or playlist. So you have immediate access to a huge music library without having to worry about the storage space on your device.
On a computer, any songs stored in iCloud will stream over the air when played, though you can download them at any time by clicking the iCloud download button. iOS devices will start playing tracks from iCloud as they download and will store them so that you can listen to them later even if you don't have a network connection. Apple TV only streams songs.
One great thing about iTunes match is that it's tied to your iTunes account or your AppleID.  This way you pay the fee one time and have access to your music on all of your devices for a year.  If this ability sounds interesting to you, here is where you need to go to learn about how to subscribe.