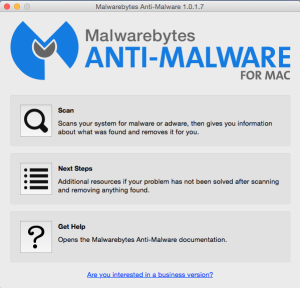 I have talked a number of times before about how Malwarebytes was the primary tool I used to remove  malware on a PC.  It is always been a great tool and always had a free version that allows me to use it on clients computers.  I've also mentioned that malware, or more accurately, Adware,  is now becoming a problem on the Mac and that I use a tool called Adwaremedic to remove malware on it.
Today, I updated Adwaremedic and found that Adwaremedic is now called Malwarebytes Mac.  I think this is a terrific change!  Malwarebytes on the PC has been dependable for years and is really the go to product for PC malware.  To have this company now cleaning malware on the Mac will be a good think.  They definitely have the expertise to do malware removal and Mac users should be able to depend on them too.
The next time you have Adware or popups on the mac, go to Malwarebytes to get your malware cleaner on yourMac.  You can't go wrong with them.