Almost a year ago, I wrote an article about a product called DSLRPros Mantis, a handheld 360° gimbal for a go pro camera. This handheld camera holder provided a motion sensitive gimbal that stabilized video taken with the go Pro camera. Recently, DJI released a similar device called the Osmo. I was fortunate enough to get an opportunity to play with one of these gimbals.
If you're into sports photography, and you're looking for a way to stabilize video that you're taking, the DJI Osmo may be exactly what you're looking for. Unlike previous products, DJI's has released this device with their own camera that had been used previously in the Inspire helicopter drone. This camera, can shoot 4K video at 24 or 30 frames per second or 1080p video at up to 120 frames per second.  Since DJI ships this with their own camera, they have the ability to be able to make their software work very well to control the camera. To utilize the device, you need to have either an iPhone or an android phone. Utilizing the DJI GO app,  a free download from the respective App stores, you have full control over all the video or still shot parameters and even the movement of the gimble.
The Camera utilizes a microSD card, that's included, to record video and still images taken with the device. Easily accessible controls on the handle allow you to move the gimbal up down and around. They also allow you to start and stop video or take still images. The handle is extremely easy to use and fairly lightweight. This makes the Osmo a very good addition to tools used for motion photography.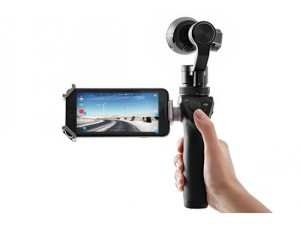 The handle also includes a well-designed phone holder that securely holds your phone to give you the ability to preview video as you're shooting it and make changes to settings. This is truly one of the best phone holders I've seen in that it grabs your phone on one side and onto corners on the other side for a very secure hold. The holder is fully adjustable for the smallest or the largest phones.
At this point, the Osmo is not without its minor problems. The camera seems very good in outdoor photography, which is likely what it was designed for, but actually doesn't read light very well when you're inside in nonoptimum light conditions.   You do have the ability to be able to tap the screen and focus on a particular point reading the light reading at that point also. This works pretty well but is actually another step you have to make to ensure good indoor photography.  The audio quality captured from the built in mic is not very good either but you do have the ability to plug in an external mic and overcome that problem.  The other issue is that at this point the Osmo is not compatible with either DJI's X3 camera, that comes installed on the inspire aircraft, or their X5 and X5R cameras that are higher quality add-ons to the inspire.  DJI promises an add on control board that will allow these to work and firmware updates to fix the incompatibilities.
Below is some sample video that you can hear the pronounced hum.
Overall, the Osmo is a great camera for motion photography. It certainly isn't the best video quality at times, and in fact the owner that allowed me to use this device for my review states that his iPhone 6s Plus takes much better video and photography. But the stabilize gimbal included in the Osmo allows you to take photography while in motion that the iPhone would provide little stability for.  I was very impressed with the Osmo's ability and feel confident that DJI will take care of the minor problems and enhance the device was software in the near-term.